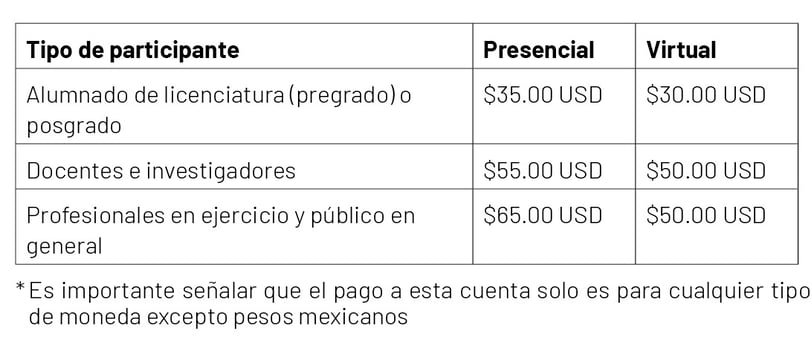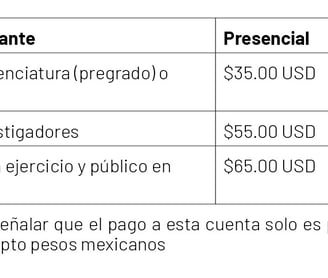 Elige de la siguiente tabla la cuota de acuerdo al tipo de participante.
BANK NAME: J.P. MORGAN CHASE BANK N.A.
NAME OF ACCOUNT HOLDER: UNIVERSIDAD NACIONAL AUTÓNOMA DE MÉXICO
ACCOUNT NUMBER: 101693118
SWIFT/CODE: CHASUS33
ABA CODE: 111000614
ADDRESS OF ACCOUNT HOLDER: TEXAS 20855 STONE OAK PKWY, SAN ANTONIO, TX 78258
a) Nombre completo
b) Perfil de participación:
Alumnado de Licenciatura (pregrado) y posgrado

Docente o investigador

Profesional en ejercicio o público en general
Presencial

En línea (Virtual)
c) Forma de asistencia al congreso de manera:
Realiza el pago en el siguiente número de cuenta:
Posteriormente a verificar el pago, le llegará un correo de confirmación de su inscripción al Congreso.
REGISTRATION FEES FOR SPEAKERS AND ASSISTANTS
Fees for institutions or people affiliated with:
National Autonomous University of Mexico (UNAM).

International Association of Schools of Social Work (IASSW).

Latin American Association of Teaching and Research in Social Work (ALAEITS).

Complutense University of Madrid, Spain (UCM).

Spanish University Association of Social Work (AUETS).

National Network of Higher Education Institutions in Social Work (RENIESTS).

Mexican Association of Social Education Institutions of Social Work (AMIETS).



Governments, public and civil society organizations with institutional links with the convening entities of the World Congress of Social Work.